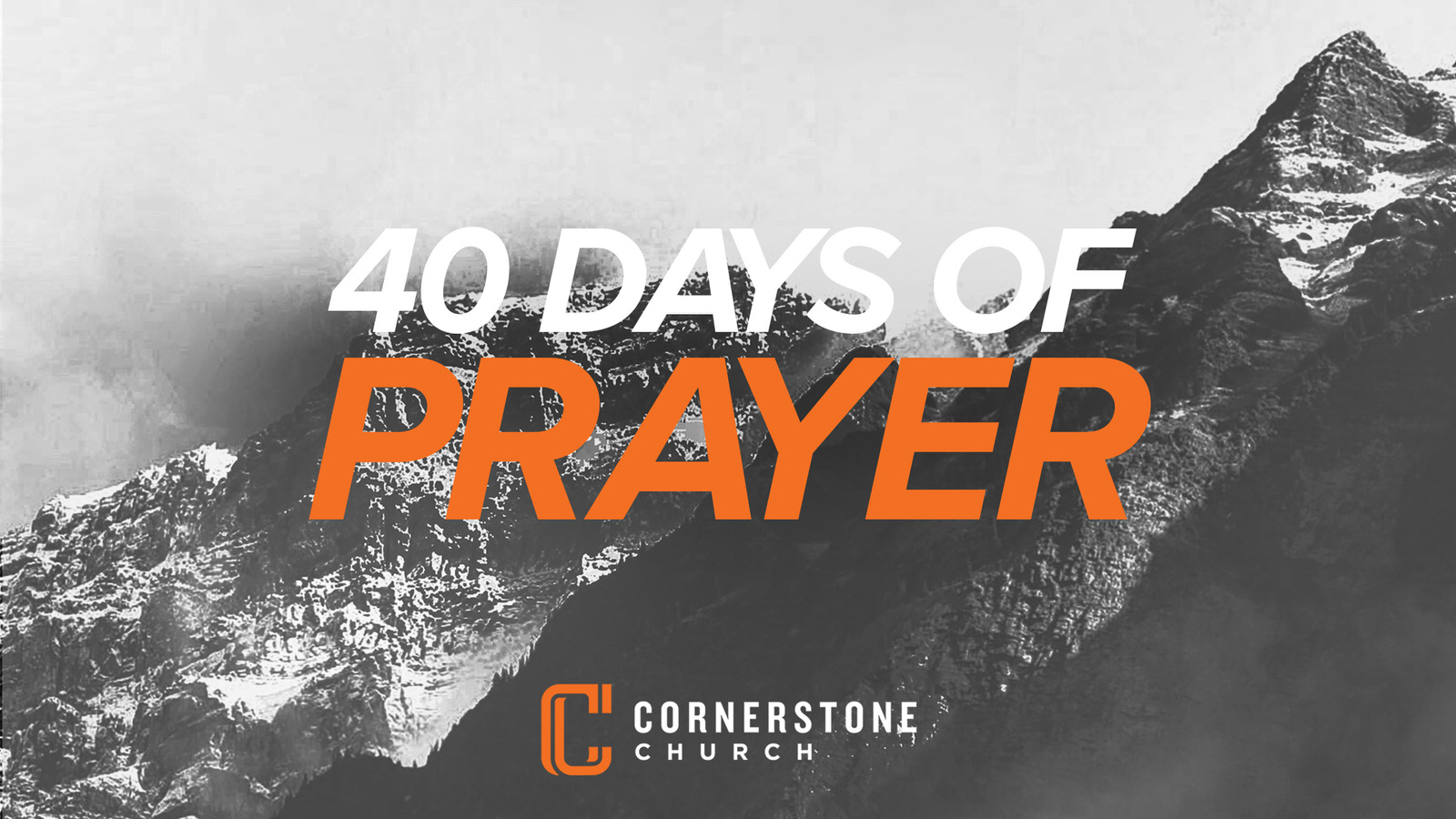 40 Days to Surrender to Him
Luke 22:41-43
"And He was withdrawn from them about a stone's throw, and He knelt down and prayed, saying, "Father, if it is Your will, take this cup away from Me; nevertheless not My will, but Yours, be done." Then an angel appeared to Him from heaven, strengthening Him."
Will you take these 40 days of prayer to surrender to the Lord? My prayer for you and me is that our lives would be fully surrendered to God.
I remember singing a worship song at Cornerstone many years ago. The words were simple but meaningful.
"I surrender all

I surrender all

All to Jesus I surrender

I surrender all."
As I would sing the song with the congregation, I would surrender myself to the Lord.
What does it mean to surrender to the Lord? It means to give up your life for His life, your plans for His plans, your future for His future, and your dreams for His dreams.
Jesus modeled surrender for us in the Garden of Gethsemane when He prayed, "not my will but thy will be done." (Luke 22:42) In this passage of Scripture, we can discover some interesting truths about surrender:
1. Our human will can be in direct opposition to God's will.
2. It is not always easy to surrender our will to God's will.
3. God will help us to surrender to His will. Phil. 2:13 says, "for it is God who works in you both to will and to do for His good pleasure."
4. God will strengthen us when we surrender to His will. Strength and peace entered the heart of Jesus after He surrendered to His Father. Jesus rose up with an inner strength to go the way of the cross for us.
Do you need a fresh surrender to God? Paul modeled daily surrender when he said in 1 Cor. 15:31, "I die daily." Do you need a deeper surrender to God? Paul went deeper with his surrender to God when he said in Phil. 3:8, "Yet indeed I also count all things loss for the excellence of the knowledge of Christ Jesus my Lord, for whom I have suffered the loss of all things, and count them as rubbish, that I may gain Christ." Do you need a public surrender to God? Peter encouraged new believers to make their saving faith public when he commanded them in Acts 2:38 "Then Peter said to them, "Repent, and let every one of you be baptized in the name of Jesus Christ for the remission of sins; and you shall receive the gift of the Holy Spirit."
Let me end this devotional by quoting Job 11:13-19, "Surrender your heart to God, turn to him in prayer, and give up your sins— even those you do in secret. Then you won't be ashamed; you will be confident and fearless. Your troubles will go away like water beneath a bridge, and your darkest night will be brighter than noon. You will rest safe and secure, filled with hope and emptied of worry. 19 You will sleep without fear and be greatly respected." CEV
Quote
Jesus taught us to pray," our father in heaven." One of the words in the Bible for "father" is "Abba." Which simply means "daddy" or "Papa." Abba is a term of endearment, love, intimacy, and security. Jesus was telling us that when you pray to God, you're talking to your dad. When you truly know and understand your heavenly father, it will radically change your prayer life. It will enable you to pray with more confidence than ever before."
Scripture
"Do not be anxious about anything, but in everything by prayer and supplication with thanksgiving let your requests be made known to God. In the peace of God which passes all understanding, will guard your hearts and minds in Christ Jesus."